I started sucking cock when I was 14. I probably knew I was gay before then but the first time I sucked off one of the guys in the neighborhood, I was hooked. I love cum, the smell, the taste, the feeling of a guy draining his balls, the whole bit. I love sucking dick, but what I really love is swallowing cum. I figure I have swallowed several thousand loads, even before I got into the bukkake gokkun scene. A lot of guys have written in to ask about the parties, what they're like and how to organize them, so I thought I would share a story.

As much as I enjoy sucking cock, I always had a fantasy about being in the center of a big group. One of the first gay porn flicks I watched was a grainy VHS tape, I think it was French, where a large group of guys jerked off all over one guy and in his mouth. He was covered in cum, and it was running down his chin and neck. So I knew I wanted to try that but didn't know where or how to make it happen. So for a long time, it was a fantasy I wanted to explore but didn't get around to.
One day I was visiting New York and got upgraded to a big hotel suite. I thought to myself that was good a time as any to give it a try, so I posted an ad on Craigslist and another hookup site saying I wanted to swallow as much cum as possible. I thought maybe 5 or 10 guys would show up at most, which still would have been fun, but I ended up with 40 or 50 guys. I was laying on a bench in the center of the room while the guys all jerked and sucked each other, and everyone of them ended up cumming in my mouth. I was surprised how many guys were into the scene. It was one of the hottest nights of my life, and I have enjoyed hosting scenes like this ever since.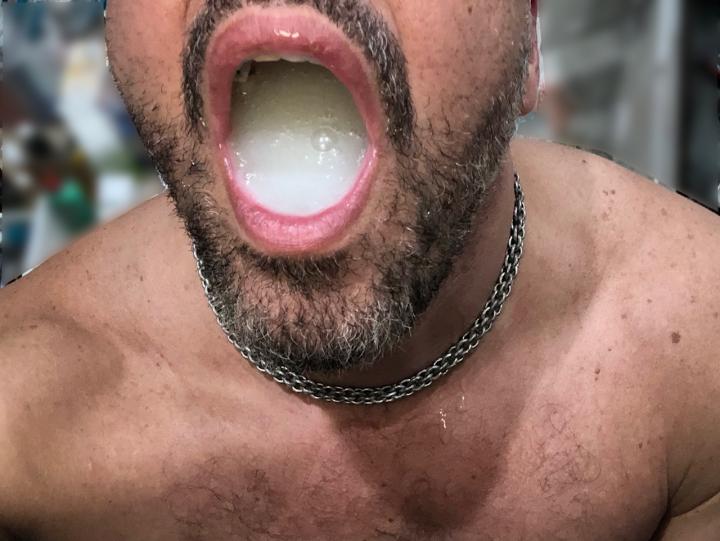 [Image: one of our guys with 30+ loads in his mouth]

The first few times I hosted parties, I was focused on taking loads, but I realized the guys were enjoying watching the whole scene, and started thinking about ways to set the parties up so everyone got something out of it. Most gay guys love watching cumshots, and the parties often turned into contests to see who could shoot the most, which itself is hot to watch, so I thought about how to set things up so I got what I wanted (as many loads as possible) and the guys got a great view of it all. At some point, I found some Japanese gokkun porn, and then it all clicked. These were straight flicks (gay gokkun videos are surprisingly rare, "Bukkake Then Gokkun" is one good one). So this is how a typical party goes (if you want to organize this scene in your city, hit me up for help getting it off the ground).
When we host the party, we usually do it at a private apartment or a playspace that we've rented out for the occasion, so it's a predictable location and easy to get in. Guys all arrive within about a half hour of each other, we have a strictly timed door so everyone is there at the same time, and so that the guys all get off at about the same time (unlike a sex club where people filter in and out over hours, the trick is to get a critical mass of people at one time). We have a clothes check, so all guys strip down to their underwear (which is mostly on the floor soon after it gets started). The guys all jerk and suck each other for an half hour to an hour, until everyone is edged really good. When I send out invites, I explain the scene so everyone knows what to expect.
Once the party is underway, I kneel in the center of the room with a large glass I use to collect all the loads. At that point the guys usually form a circle around me and edge. Sometimes they cum quickly, sometimes it builds up for what seems like forever. I love the anticipation of knowing that dozens of guys are about to unload in my mouth, but not exactly when. Then someone can't hold back any longer, and will walk up, hold his cock in my open mouth and unload. I ask the guys to aim well. While I have the bowl to catch it all, I want every drop of sperm in my mouth. Once a few guys have cum, I'll gargle the cum in my mouth as the next guys unload, which drives them crazy. When it is a really big crowd, like 40 or 50 guys and up, it gets primal, and sometimes I will have 2 or 3 guys shooting in my mouth at the same time. After 15 or 20 loads, its more than I can hold in my mouth, so I'll start saving it up in the glass as more and more guys unload. Toward the end guys are generally cumming non stop so it is a challenge to be accessible (I ask guys to catch it in their hand and feed it to me if they can't make it over to me).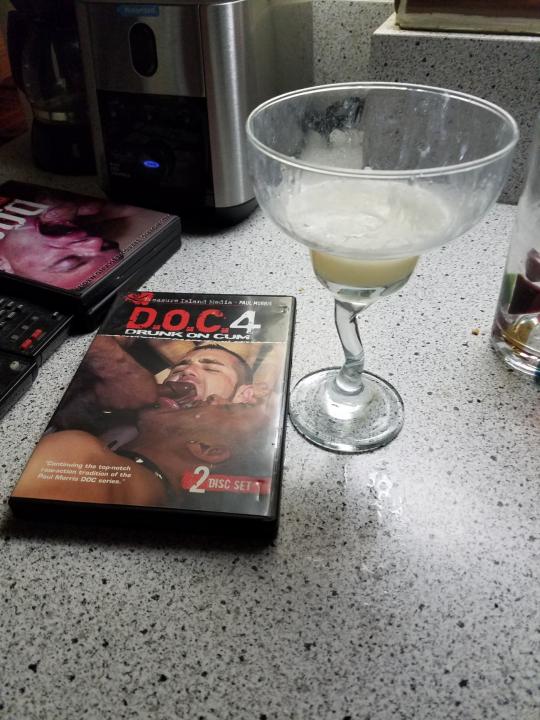 [Image: after a small party, about 20 guys]
Most guys come to the party to jerk off with other guys and unload, but a few come specifically to watch me chug it all. So when I get down to the last 10 or so guys, I'll pull out some shot glasses and fill them each with sperm, then throw a shot glass back, gargle it, and chug it all, and then another and another until I have swallowed it all. So far my record is 80 loads, and I would like to swallow a lot more than that sometime. One of the questions I get asked often is if swallowing that much sperm makes me sick. There is a trick to swallowing that much cum without gagging, but it doesn't make me sick. To be honest, it just makes me want more.
Want to host a scene like this? You should. It's a hot scene, for the swallower and for the guys participating. If you'd like to organize one in your city, get in touch and I can give you tips. swallow_nyc@yahoo.com
Interested in the NYC parties? Our next party is Sun Aug 4th in Midtown. We're hosting a hot latin guy, and expert cocksucker who is looking to break his current record (25 loads). Come help make that happen for him (hit us up for location details). It's a hot scene, and we're always looking for more sperm donors.